M.A. Wash Vac now cleans ovens!
Cleaning your oven is hard work and sometimes near impossible. Shop bought oven cleaners are not the answer as they use dangerous and corrosive chemicals that can infiltrate your family's food. Sometimes the only way to get the sparkle back into your kitchen is getting your oven professionally cleaned, and having your oven cleaned has more benefits than just a spotless kitchen. Having your oven cleaned professionally on a regular basis prolongs the life of your oven, helping you take care of your kitchen and your appliances.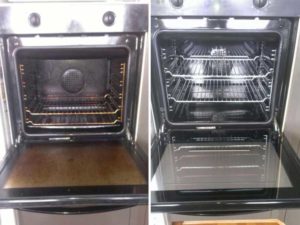 We use grease and carbon digesting microbial treatments and a van mounted dip tank to break down deposits, which is a safer alternative to harmful and dangerous caustic chemicals so you can be sure that your family's food is safe. We also only use ethically sourced and eco friendly materials because well… we are just nice!
Prices from £50, please call number below for a quote. For people whose oven has already been cleaned but the door has managed to get something on the glass inside we also offer an 'Oven Door Only' service where we will come and take the door apart and clean inside the glass for only £30!
Our highly trained oven cleaners are available Monday to Friday from 9:00am – 5:00pm so call us on Freephone 020 8958 3263 today to book your oven clean!
Introducing our new 'Oven Door Only' Service!
We now offer an 'Oven Door Only' Cleaning Service where we will come to your home and clean the inside and outside of your oven door for just £30!
Is there anything more annoying than when that bit of carbon or food gets stuck in between the glass on the inside of your oven door, compromising the look of an otherwise spotless kitchen?
The answer is no there isn't! And for that reason we are offering a brand new 'Oven Door Only' service. We will come out and make this annoying problem go away for £30 only. This means you don't have to pay the full price to get your oven re-cleaned, you only have to pay for what you need cleaned.
One of our skilled professionals will carefully remove the door from your oven, take it apart and give the inside a deep clean using our non-caustic, eco-friendly treatments before re-assembling the door. All of this for just £30!
Call us on 0808 590 0965 for an appointment!